2020 was our centenary year which we had planned to celebrate the centenary by hosting a number of special fixtures to mark this special achievement. Unfortunately, as many clubs were affected by COVID 19 we had to postpone these events.  
As COVID 19 improved in 2021 we were able to complete some of the rescheduled events, however some were delayed further into 2022.
The club was officially founded in 1920, although there is evidence to suggest the name "Hemel Hempstead Bowls Club" was first used in 1912 when a piece of land in Randalls Park was levelled to provide a public two rink bowls green.
An inaugural meeting launched the club, elected Mrs Randall as President, and the first game was played on 28th May 1913. They had 40 men members although it was envisaged that it would eventually be a mixed club.
The 1914-18 war depleted the membership to such an extent that after a couple of years the early Hemel Hempstead Bowls Club ceased to exist.
The Old House in Queensway had been used to house German prisoners of war. During their stay they had, for 6d an hour, levelled and laid out a three-rink bowling green behind the property. The green at Randalls Park was too dilapidated, so the remaining members of the club agreed to transfer to the Old House.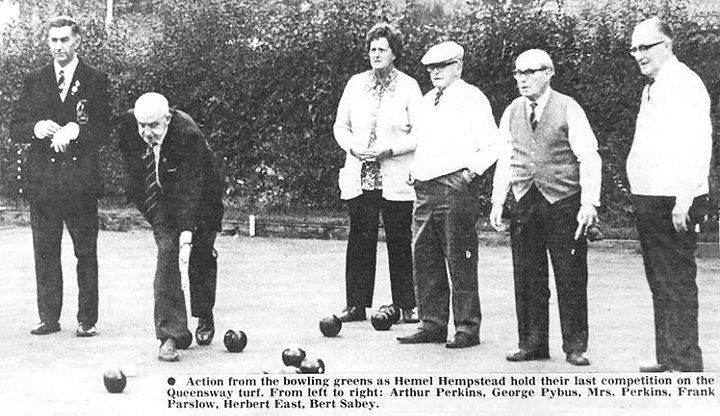 The club moved to its current location in May 1974, using what was the adjacent public green. A couple of years later (1976) the club pavilion was completed and the club switched to its present green. The pavilion has been gradually extended over the years reaching its present size in 1995.
For a fuller description of our history please refer to the notes kindly provided by Jack Fish, a former Hon. Secretary of the club, and a more recent update provided by Brian Smith in 2021.